Friday 5th January
Happy New Year and what a fantastic start to 2018 it has been at school.
Foundation Stage
Children have returned being positive and enthusiastic and open to having a go at new challenges. There have been some changes to the routines during the day and children have coped particularly well and contributed to a great week. There have been some pretty spectacular models created too!
KS1
Children have been excited by the prospect of two competitions that are on the horizon. Year 1 will be taking part in a Multiskills competition and are already wanting to prepare by practicing at every opportunity. Year 2 are excited at the thought of their skipping competition and are developing their skills really well.
KS1 children had a taste of KS2 art this week when Miss Lowther worked with them to develop their shading skills. The results were truly impressive.
KS2
Lower KS2 have welcomed their new teacher, Mr Edwards, into Year 3 and are enjoying getting to know him. They have been discussing some super ideas around the poem 'Somebody's Mother' written by Mary Dow Brine telling a heart warming story of an old lady, who, uncared for in the past, is waiting to cross a busy, snow-covered road. Year 4 have had quite an arty week and have produced some super final pieces of collage work based on inspiration from Henri Matisse, an artist who used bright colours to make an interesting arrangement of shapes in cutouts
Upper KS2 are fired up for the 'My Interests' section of the JASS scheme (Junior Award Scheme for Schools). Children have been considering which of their interests they are going to focus on and develop a little more. I look forward to sharing the progress with this later in the school year.
.
Friday 15th December
KS1 Bethlehem's Buzzin
What a wonderful performance! The whole school was buzzing with the toe tapping songs, acting and dances. A very polished performance showcasing children's talents. The event was extremely well attended and enjoyed by all.
KS2 Christmas Service
A thought provoking service together with a combination of modern and more traditional carols to remind us all about the true meaning of Christmas. There was some super singing - well done.
Christmas parties galore
All children in every class thoroughly enjoyed letting their hair down for the Christmas parties.
Fond farewell
We were saddened at the end of term as we had to say goodbye to Mrs Hunter and Mrs Loveday. We wish them lots of happiness for the new year and beyond.
Friday 8th December
Santa called...
Santa called in for the day on Friday and met children from Year 1 to Year 6. He was very interested to hear what everyone had been doing and amazed us when he told us how he shares the carrots he collects with other reindeer in his herd. Thank you Santa. We hope you travel safely on Christmas Eve and enjoy a well deserved rest in the New Year. We also hope that you will be able to visit us again next year.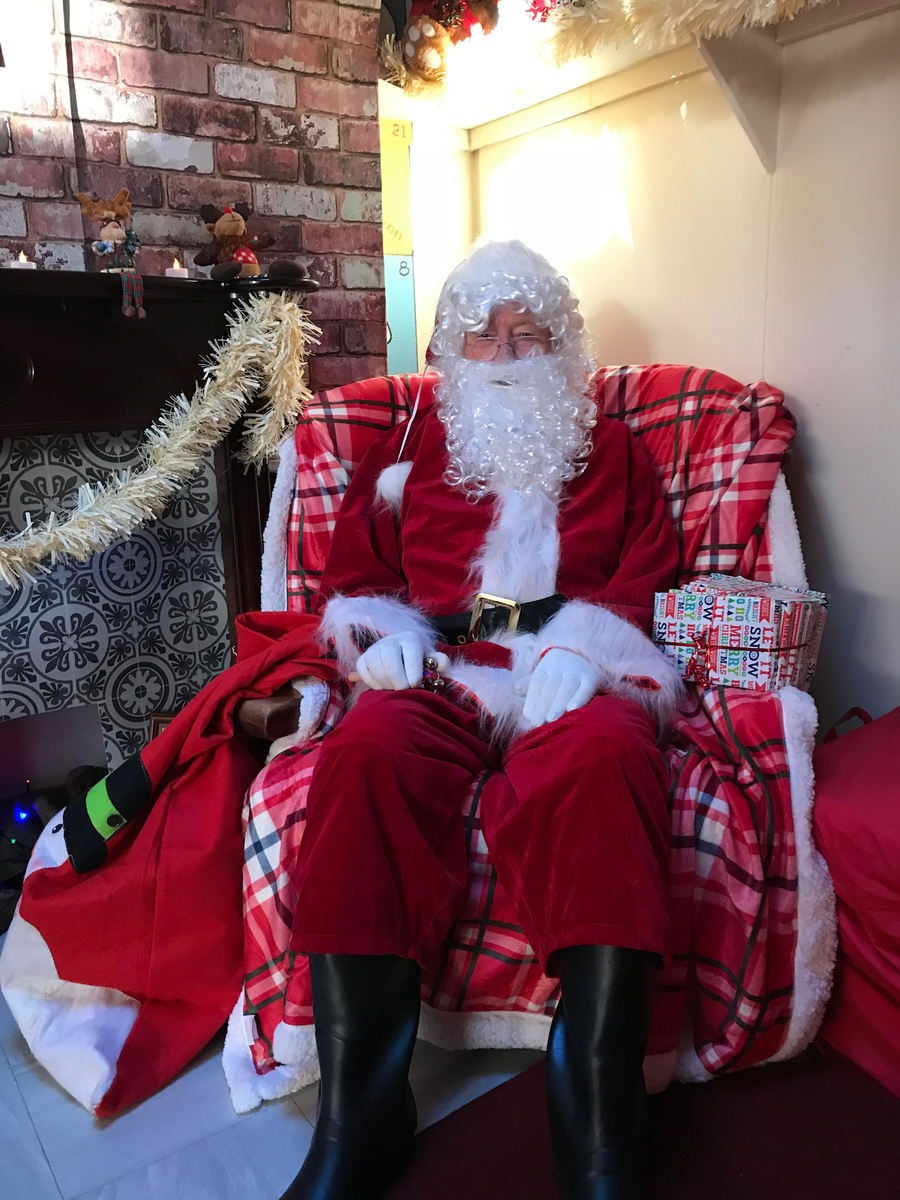 Christmas lunch...
It never ceases to amaze me how fabulous our Christmas lunches are. Everyone from F2-Year 6 and staff included were squeezed into the hall for merriment, crackers and delicious food. The resident musical, dancing hat caused a lot of merriment too. A huge thank you to everyone who made lunch such a wonderful event and a special mention to all cooks for all their hard work.
Foundation Stage Nativity - Humph the Camel
A wonderful performance with super songs, acting and dancing. The children were fantastic, gaining confidence as young performers. Two packed shows full of parents, grandparents and friends and there wasn't a dry eye in the house!
Chris Young from British Cycling...
Children from Year 4 Year 5 and Year 6 took part in a range of cycling workshops. We were all interested to hear how Chris worked hard and persevered to become a great cyclist. Great advice for us all.
Bikeability...
Year 4 children were developing their cycling skills again this week working with trainers from Cycle Leeds on Bikeability Level 1. Congratulations.
Friday 1st December
Christmas....
How exciting to come to school to find Christmas had arrived. Christmas decorations were everywhere, a grotto for Santa, a tree as tall as the hall, trees decorated in corridors, classrooms and entrances and the north pole outside! In true Christmas spirit everyone enjoyed a visiting theatre company performing a pantomime...oh yes they did! Aladdin came to life for us all.
Singing, dancing and lots of excitement could be heard in classrooms, corridors and the hall as children prepared for their performances. It's all sounding fabulous.
Pop Up Shop...
A huge success, but It's all top secret! Children thoroughly enjoyed shopping for gifts for their family. There was so much to choose from! Christmas shopping all done, wrapped and home in plenty of time for Christmas. Thank you to all the parents who helped in the shop helping children select their gifts and then wrapping them all!
Friday 24th November
Christmas Shopping ...
We've had an exciting time window shopping today in preparation for our Christmas Pop Up Shop next week. It's a fabulous atmosphere when children visit the Pop Up Shop to carefully choose their gifts, there's a lot of deliberation and thought goes into the final choice. Then to the wrapping station to select the perfect paper for gift wrapping. Children leave delighted with their gifts and look forward to putting them safely under their tree. Stress free Christmas shopping!
What stars...
What an array of achievements we celebrated in our Final Friday of the Month Assembly. What talent, dedication and commitment our children have. A huge well done to you all.
Foundation Stage
Road Safety Week led to a lot of activities to help make sure our children know how to cross the road safely. There were lots of opportunities for children to cross the road within our school grounds before putting their learning into practice on the visit to Kippax Library. The Library visit was a huge success with children enjoying Bumble Bear and looking through all the books. What a treat to be able to bring some books back too. Children have all been planting crocuses so we'll be looking forward to spotting them when they start peeping through in the spring.
Key Stage One
Classrooms, corridors, the Hall and no doubt your homes have been buzzing with the tunes from "Bethlehem Buzzin'". There are some lively, foot tapping songs, a sprinkle of humour and a drop of heart melting moments. The nativity will be fabulous. Please collect your tickets from the school office... there's a few left but they're going fast!
Key Stage Two
Another busy week of learning across the Key Stage. To promote Road Safety Week Children worked with a team of experts from Cycle Leeds to learn how to "Fix It". Children learnt how to repair punctures, fix their chains and conduct safety checks on their bikes. All very useful skills to have as a cyclist.
Year 6 parents and pupils met to start preparing for the residential to Buckden House. There's plenty of excitement about the activities and pulling together when away from home.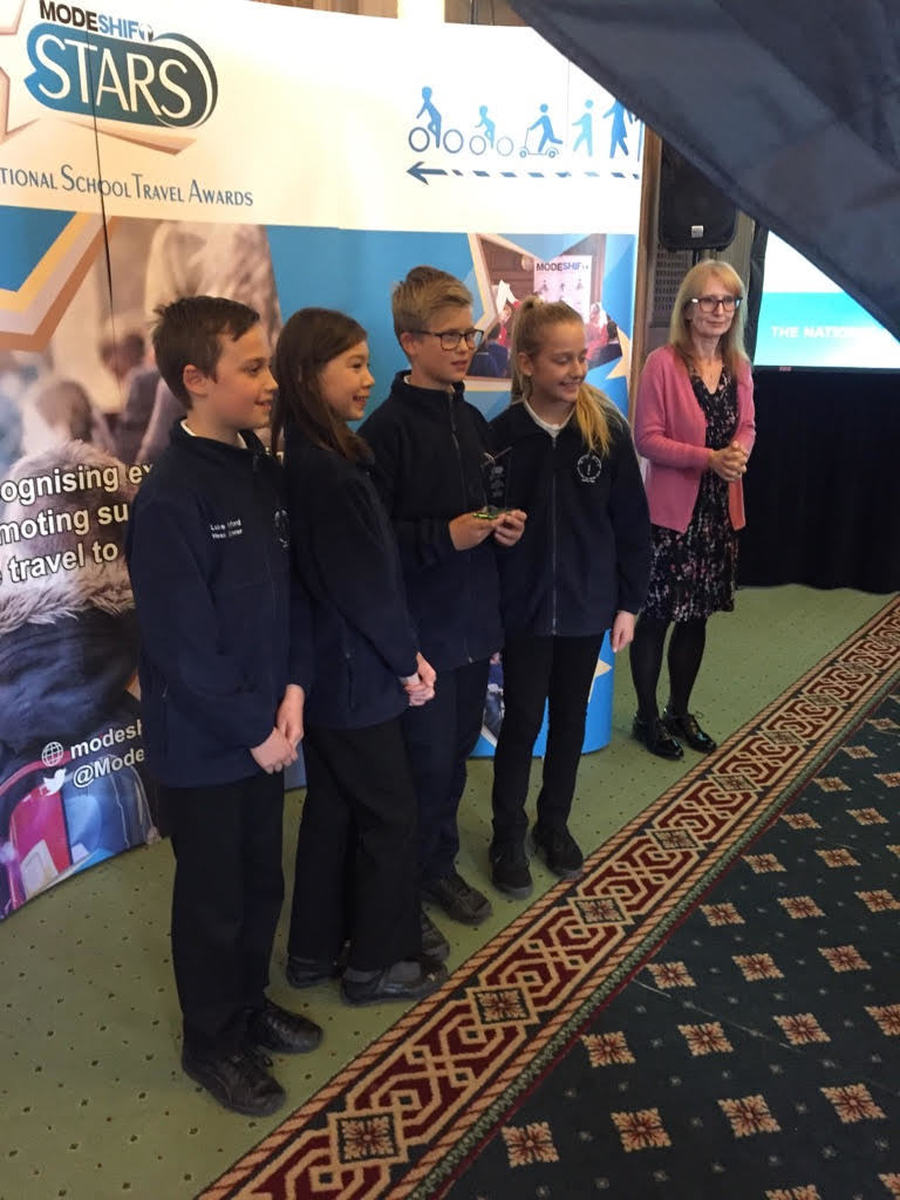 Leeds STARS Primary School of the Year
What an achievement! Four of our pupil leaders attended a regional awards ceremony in the Banqueting Suite at Leeds Civic Hall and received the award on behalf of everyone at Kippax North. All the work we do to support and encourage our community to be sustainable in their choice of travel is recognised so a huge well done and congratulations to you all. Keep walking, scooting and cycling!
Children in Need
It was wonderful to see children in non uniform. I don't remember when I last saw so many spots before my eyes! A fantastic effort to support a children's charity. Well done for raising £186.
Anti Bullying Week
Look out for work that will be added around school over the next few days highlighting what children have been discussing and reflecting on. The theme "All different - All equal" has had everyone thinking deeply and considering the importance of valuing and celebrating our differences.
Foundation Stage
Children have been learning some of the songs for their Christmas Nativity. I'm sure that you'll enjoy singing along at home too!
Key Stage 1
What a lovely assembly Year 1 presented to us on Wednesday. The children were so proud to share their learning with everyone and were especially pleased that so many grown ups were able to join us to celebrate their achievements.
Thank you to KS1 for planting lots of extra bulbs. We'll be looking forward to the spring to see how well they grow.
Key Stage 2
Children have been working with the RSPB to explore our school grounds finding wildlife habitats and learning how we can develop our environments further to provide more homes for nature.
Some of our children have been working with trainers from Cycle Leeds to develop their cycle skills and achieve Level 3 Bikeability. Congratulations to everyone involved.
Year 5 and 6 pupils visited the Leeds Carriageworks to see a children's performance of Good Night Mr Tom. A fabulous performance which had our children enthralled. Watching a live performance, in a theatre, late at night, contributes to one of our special childhood memories.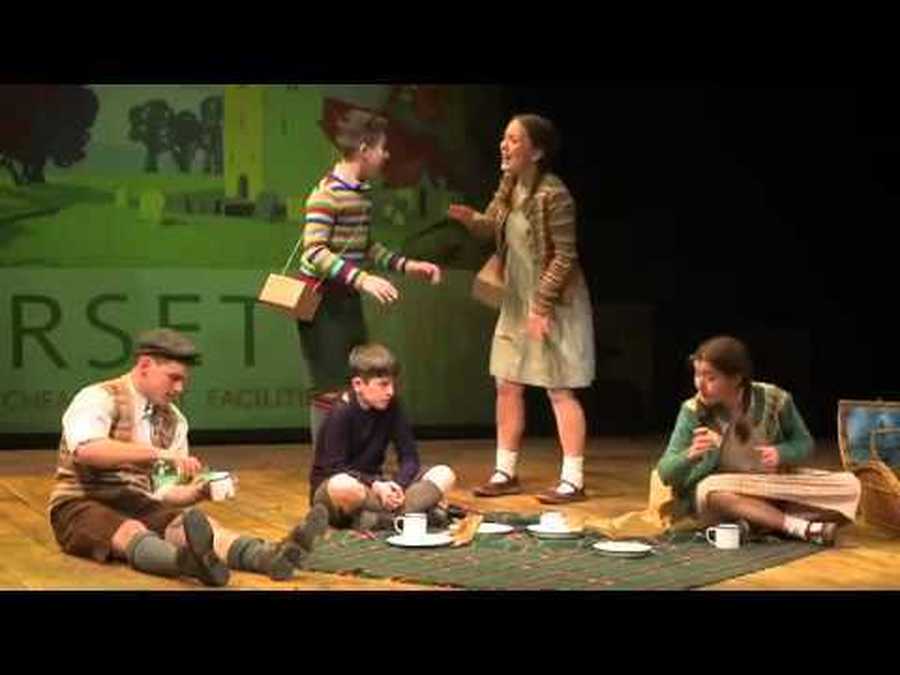 Friday 10th November
Sport
Our netball team took part in a competition this week. There were some hard fought games followed by a 1-0 win against Kippax Greenfield.
Foundation Stage
Children in Foundation 1 and 2 have been enjoying learning through play outside again this week. There have been some wonderful creations in the Mud Kitchen and much fun developing a mud slide. Many thanks for your support providing wellies and waterproofs so that the children can get thoroughly engrossed without worrying about the mess! Our Foundation 1 children are enjoying developing their friendships and playing together.
Key Stage 1
Parents and grandparents joined children and staff for some hands on science activities. The conversations were such quality based on first hand experiences. A super opportunity for us all to work together to develop children's understanding.
Balance-ability
Children from Y2 have been developing their balance skills to help them be more steady as they ride their bike. There has been great concentration and determination to improve these skills.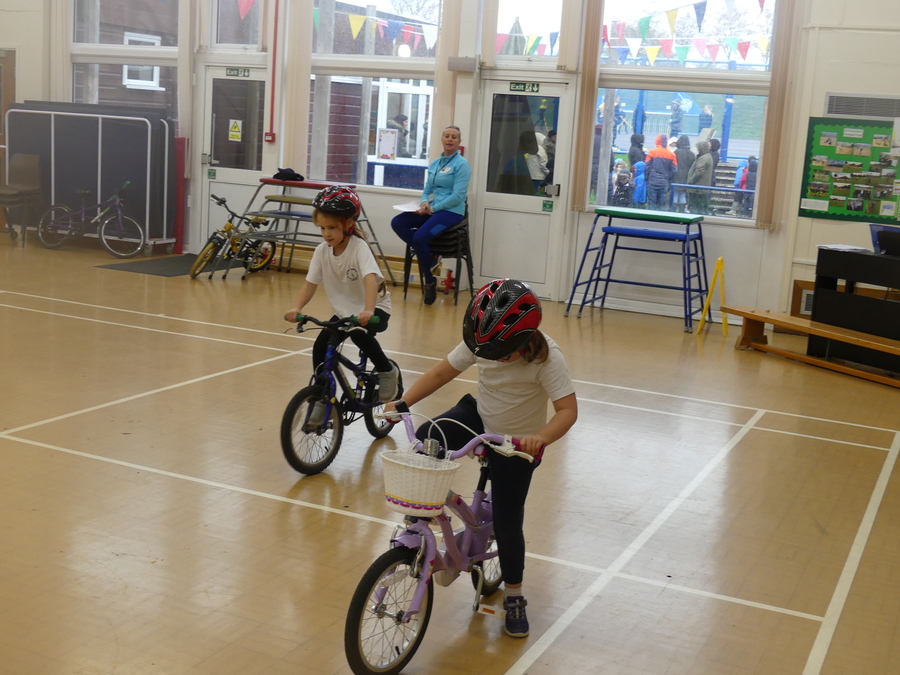 Key Stage 2
Thank you to Year 3 for their wonderful class assembly. We always enjoy hearing what the children have been learning and seeing their confidence and presentation skills grow.
Pupils have been learning how to film and edit. The finished article can be found in the News section of the website under Kippax North TV - a super job.
Kippax North Connections
Parents have been able to top up on their Christmas shopping at a Parent Pop Up Shop for adult eyes only! A super event, thank you to everyone who visited and organised the event.
We remembered...
Everyone respectfully gathered in our Remembrance Garden to reflect the wars that have scarred our past and the bravery of the men and women who fought them. Armistice Day and Remembrance Sunday is a chance for us to remember not just those who fought, but what they fought for.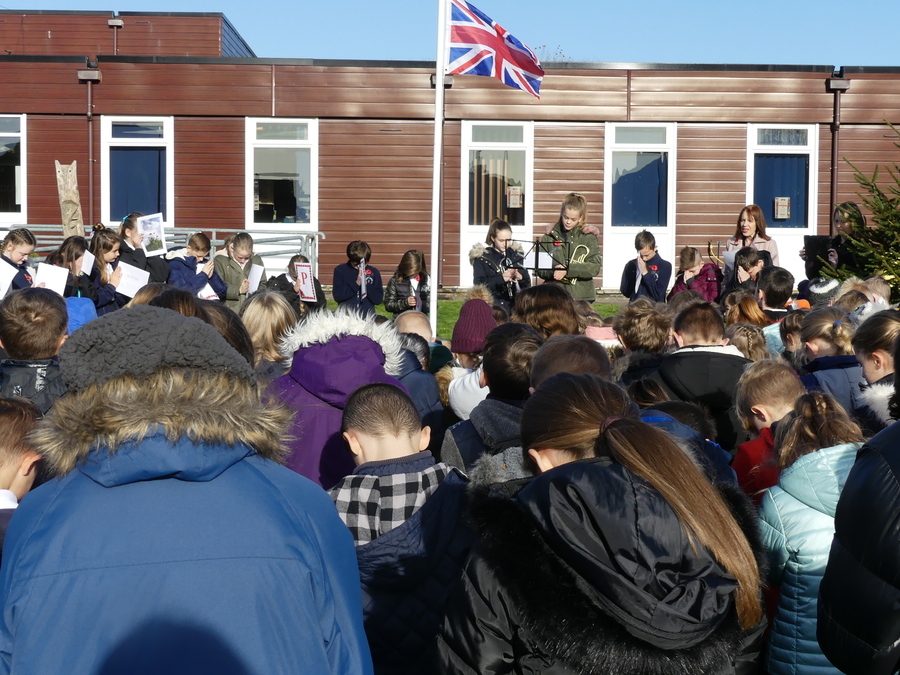 Friday 3rd November
Welcome to our updated website. We have re-organised the Home page and the drop down tabs to help make finding information easier. I'm hoping that it will not take long for you to be able to find your way around. Please get in touch if you would like some help navigating the site.
Class newsletters have been distributed this week. Please check that you have received a copy.
Foundation Stage have enjoyed having their parents working alongside them this week. Thank you to everyone who joined us, it was lovely to see so many families signing up for the "Drop In" sessions and playing alongside children in the different areas of provision. This generates such a lot of conversation between our children and adults which is of huge benefit.
Key Stage 1 have been busy preparing for their "Family Learning" session next week - Tuesday 7th November between 2:00p.m.-3:00p.m. Please come along and join in if you're free. It's going to be an exciting, hands on experience!
Y2's Class Assembly was super on Wednesday with such confident, talented actors and narrators reminding us about the origins of Bonfire Night and tips on how to keep ourselves safe with fireworks. An excellent job Year 2.
Key Stage 2 took part in the national "Big First Aid" lesson on Friday from St John's Ambulance. There were practical elements, animations and interactive activities that helped develop confidence that one day our children could be a life saver. Children saw demonstrations of relevant first aid techniques, including important bonfire night safety tips and information including who, what and how to call in an emergency, choking and burns.
Our newly appointed, pupil referees received training to enable them to fulfill their leadership responsibilities at playtimes and lunchtimes.